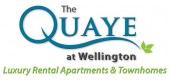 Resident Reviews
|Recommended: YesVery nice — I am moving in next week, look forward to a good experience
|Recommended: YesLiving at the Quaye — So far, I love living at the quaye But the only thing I would could complain is the guest parking, there just isn't enough near my apartment but overall I love it here Everything is on point
|Recommended: YesService — Great service by the team. Stephanie, Laurie, Ghislaine amazing team.
|Recommended: YesHard Workers — Got my lease in 2 days. Incredible work by the management team Hope to have many great experience while I live in The Quaye at wellington.
|Recommended: YesNew Home. — Just moved in and it's wonderful. Beautiful landscaping. Nice community feeling. Staff is very knowledgeable and friendly. Parking is the only issue.
|Recommended: YesClean, Convenient, Well Maintained — The Quaye is convenience to shopping and entertainment, easy to navigate, and well maintained. My experience with the leasing staff has been great. The maintenance staff has also been great, thanks to Antonio for quick response to issue.
|Recommended: YesProperty is great. Only major area of concern is trash dumpster area has water under dumpster and water level high after rain and odor. — It is a great place to live.
|Recommended: YesExcited to live here — Coming from NY, I had very high expectations. The Quaye has met them head on. Devan, Taylor and the rest of the team are great to work with We're excited to live at The Quaye.
|Recommended: YesExcelencia — Excelente
|Recommended: YesGreat Property — Great Place to live
|Recommended: YesGreat Property — Great Place to Live
|Recommended: YesRelaxing, secluded and vert family oriented. — I love it, if you like a nice spacious town home feel then look no further.
|Recommended: YesGreat Location and staff — Great for family living
|Recommended: YesI'm pleased with the property — It's a very nice community with multiple amenities and services close by.